Meet Us!
Hello!! 
We are Tanya and Tina.
Welcome to our small family business.
A little about ourselves.. Tanya is actually my (Tina's) Aunty we have always had a super close relationship. We are both Beauty Therapist by trade and have been for many many years and now here we are working together creating this little store that we love so much.
Tanya is a mum to two gorgeous teenage daughters and Tina is a mum to three beautiful young kids, twin girls and a little boy. This is where our love for finding the best kids clothes began.
Our drive and our reason why we do this is to find high quality, comfortable but cool clothing that is still affordable. We stock mostly Australian brands and that is something we are passionate about and very proud of. We hope you enjoy taking a look around our store. Please don't hesitate to contact us on our social media pages if you have any questions. 
Thankyou for helping to support our dream.


A little bit about where our name comes from.
In honour of Tanya's Dad & Mum (Tina's grandparents) Barry and Pat who are also known as Fred & Hilda. We thought who better to name our little business after than the two people that inspire us the most!
​Just two mum's chasing big dreams!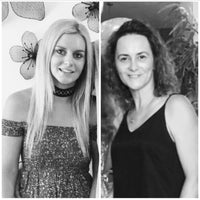 Testimonials
Fast delivery! Great quality clothes and a lovely family run business!

Maddie
Such good quality. So soft and comfortable.

Chelsea
Thankyou so much for dropping my order off. Such fast delivery!! Absolutely love the overalls and cannot wait till he will fit into them.

Lisa
Fast delivery, old fashioned service. Highly recommend your shop to all of my friends and family.

Kaila M
OH EM GEE!! IN LOVE WITH THESE PERSONALISED TEE'S. Quality is amazing. Can't wait to give them to my neice's and nephew's for Christmas. Incredible Service. THANKYOU!!

Whitney
Wow fastest delivery . Amazing service. Will be recommending to everyone i know.

Julie